Reliance Auto Test
Providing First-Class Dealership Service At Local Garage Prices You Can Afford.
Our Service
As an independent garage serving Bicester and the surrounding area, we pride ourselves on being able to provide exceptional customer service, extremely competitive pricing, while still utilising market-leading products. By remaining independent, we can offer our customers a superior level of automotive excellence at prices to suit all budgets. At Reliance Auto Test, our technicians are always aiming to deliver quality workmanship, using the latest trade practices to ensure your vehicle is always fully maintained and in safe working order. Our experienced team of technicians undergo advanced training with the latest trade technology to bring you a full range of engine management and diagnostic services alongside reliable MOT testing and vehicle servicing.
Wheel Alignment
If you're concerned about your vehicles wheel alignment, our latest equipment uses advanced technology making 4 wheel alignment even more accurate.
Tyre Checks & Replacements
For safety reasons, it is recommended that you replace your tyres before the legal limit is reached. If you're worried about your vehicles tyre wear, then please get in touch to have them checked.
Inspections & Safety Checks
If you're vehcile is experiencing vibrations or  your vehicle is pulling to one side, then it's time to check your brakes, suspension, steering or tyres. Contact us today.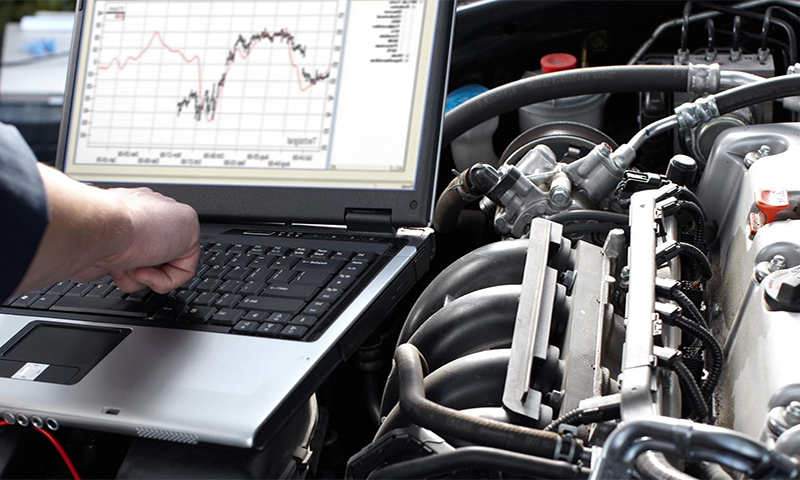 Engine Diagnostic & Mapping
Our accredited technicians, use only the latest technology to undertake vehicle inspections and diagnostic tests. So, if you see a warning light, get it checked!
MOT Testing
As a DVSA-approved specialist, we're able to perform MOTs and inspections on all Class IV and Class VII vehicles. Call us for more information and book your MOT today!
OEM Parts
Did you know, you're local garage can carry out vehcile repairs without invalidating your dealership warranty, we use only the very best OEM parts, so warranties are protected.
"Reliance were fantastic when we experienced an issue during the weekend with our car. They were available despite it being out of hours and kept us up to date like I've never seen before, including sending photos via what's app. When a further issue was found, they gave us multiple options for fixing the issue and went out of their way to help. Thanks ever so much to the team."
Hayley Humphries
"Excellent service. I am a returning customer and would recommend Reliance to any friend or family. Great contact ahead of completing work and nothing is too much trouble. Very impressed indeed. Offered great thorough advice today when collecting my Cooper S, customer service is always spot on. I will be back (but hopefully not too soon)."
Owen George
"Highly recommended. Adam so helpful after my clutch went, he managed to recover the car, fix it & even took me to collect the car in 24 hours. After not realising these guys even existed, I now have faith that I won't be ripped off as a 'woman driver' who doesn't have a clue, & will continue to use these if future. Thank you so much."
Charly Wheeler
Garage News
At Reliance Bicester our professional technicians are committed to keeping your vehicle roadworthy at all times, making sure you, your family and other road users are safe. We achieve this by encouraging our customers in the local Bicester community to regularly service and maintain their vehicles. At Reliance Bicester we have the facilities, capacity and qualified technicians to maintain all vehciles. Within "Garage News" those same friendly technicians will share their knowledge, maintenance tips and tricks to help keep your vehicle on the road.
Drive with Confidence: Ensure Your ADAS is Accurately CalibratedADAS (Advanced Driver Assistance Systems) calibration is crucial to ensure the safety and accuracy of your vehicle's safety features. In this blog post, we will dive into the importance of ADAS...
read more
Frequently Asked Questions
Why should I choose Reliance Auto Test ahead of other garages?
At Reliance Auto Test, we work from one of the newest and most innovative MOT testing garages in Bicester. We are genuine local specialists for car servicing, car repairs and all automotive general maintenance. Try us and discover for yourself how our team provide the most efficient, cost-effective and professional service in your area.
Are there any benefits to using your company for MOTs?
Definitely! Our new MOT testing facility in Bicester is linked to a nationwide database, so, once you become a customer, we'll remind you of forthcoming MOTs well in advance of the test date. If you come to us for MOT testing and your vehicle fails the inspection, the subsequent car repairs can be completed here prior to a free re-test. Our DVSA approved testers are qualified for Class IV & Class VII MOTs.
Do you use high quality brakes and exhausts?
Of course! Replacement clutches, brakes and exhausts are sourced from trusted suppliers in and around the Bicester area. All parts and components used by Reliance Auto Test are OEM compliant. We're so confident in the quality of our products, we offer our customers a minimum 12 month or 12,000 mile warranty on them.
How does your car servicing compare to main dealerships?
Because the technicians at our garage work to the same specifications as main dealerships in Bicester, you won't notice any discernible difference with our car servicing until we present you with the final bill. While our prices for car servicing are nearly always lower than dealerships, our friendly service team and professional technicians continually exceed our customers expectations. Come visit us, see for yourselves and chat to the team.
RAC Approved Garage Network
Reliance Auto Test, Bicester is very proud to be part of the trusted RAC Approved Garage Network. This distinguished association brings our customers honest pricing, quality work and exceptional customer service, along with an additional range of motoring benefits.
Do you have prefered suppliers?
Our automotive and industry experience has led us to develop some strong partner relationships that deliver real reputational benefits to our business. In addition to our association with the RAC Approved Garage Network, we are delighted to promote BlackCircle Tyres, Brembo Brakes & Hofmann Megaplan for wheel alignment technology.
Reliance Auto Test
Satisfaction Guaranteed